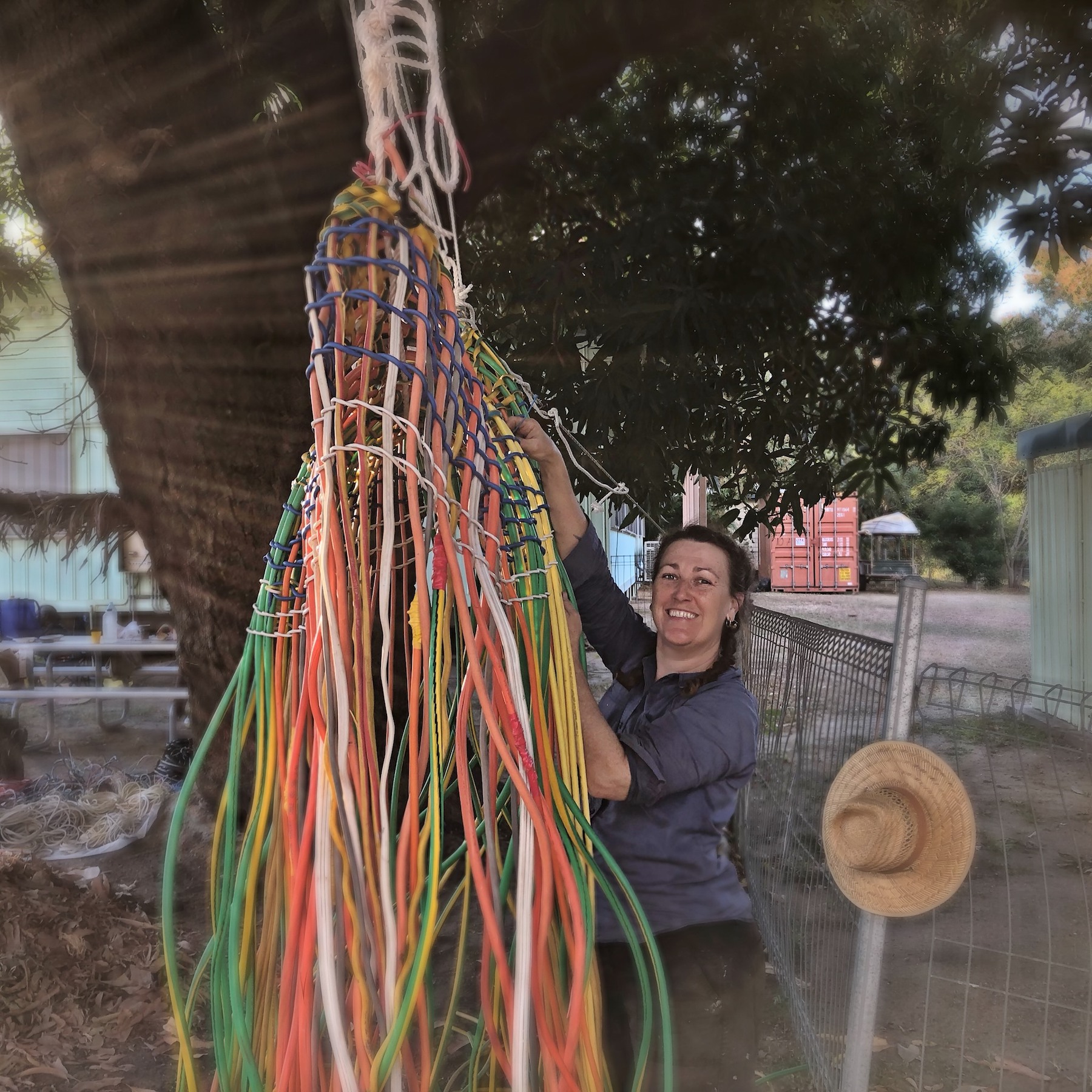 Bernadette Boscacci (b.1969) is an Australian artist of Celtic / English / Italian descent, based in Townsville / Gurambilbarra, north Queensland. Bernadette works across multiple media, including drawing, sculpture, printmaking, painting, public art, literature and design.
Bernadette's approach is typically interdisciplinary – interweaving her project-based curatorial, community cultural development, educational and environmental conservation work with her studio-based, multi-media arts practice. Her community based projects are focused on conserving and championing culture, nature and healing in communities with individuals and groups. In her studio practice she creates uniquely crafted objects using a range of materials and processes (with a preference for using found and recycled materials). Her artworks are both raw and finessed, they exude presence and evidence her love of nature, materials and processes.
Bernadette has worked professionally in the Arts since 1987 in roles including: Screenprinter / Assistant with Redback Graffix, Sydney (1988 –1993); Arts facilitator/Community Cultural Development Worker in remote and regional Queensland (1995 – present); Desktop publishing and design, Art Therapist, Teacher, Project Coordinator and Manager (2005 – present). She commenced exhibiting in 1987, and has exhibited in Australia, (Queensland, NSW, Victoria) and internationally (Sweden and the United Kingdom).
Bernadette is also a dedicated landcare volunteer and leads an urban, riparian regeneration project in her home suburb.
In 2012 and 2013, Bernadette worked on three public art works, part of a collection situated along the Ethno-botanical Trail and Historical Timeline on Townsville's Jezzine Barracks / Kissing Point / Garabarra redevelopment. One of the art works was fabricated by Andy Frost, his assistant Sha Doh and Bernadette on Magnetic Island (Yunbenun) over the winter of 2013. You can watch the Council promotional video below or see the 'Big P' production photos on Andy's website: Andy Frost – Sculpture.
Pandanus, with co-producer Andy Frost.
All photographs are by the artist, unless otherwise noted. Aboriginal and Torres Strait Islander people are warned that this website contains images of deceased people.
---
I respectfully acknowledge the Traditional Custodians of the land and sea where I live and work – the Wulgurukaba of Gurambilbarra and Yunbenun, and Bindal peoples, and their neighbours, the Nywaigi, Manbarra, Gugu Badhun and Juru peoples – all of whose sovereignty has never been ceded. I pay my respect to their Elders, past and present, and to all Traditional Owners who have stewarded lands and seas over time. I am grateful to be able to live here and work to help conserve nature, country and culture.