Yellow Peril: the shape of things to come
Banana Splits: (aka Bernadette Boscacci and Sharon Kitching) participated in Strand Ephemera 2017.
Their work, Yellow Peril – the shape of things to come was a homage to North Queensland spirit.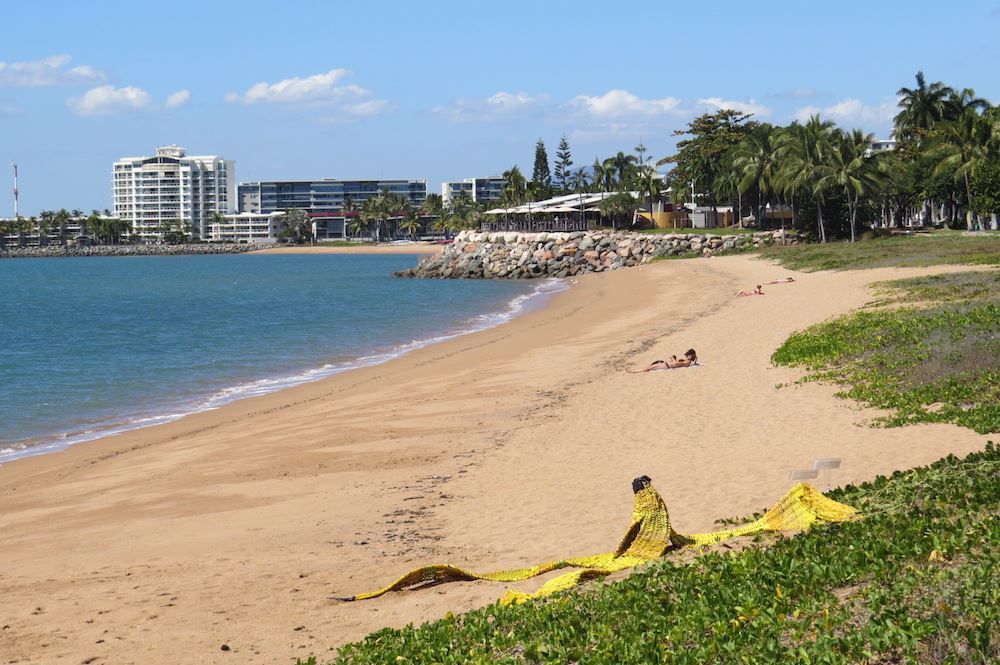 Yellow Peril takes the big banana and splits it. Made from recycled cabling of the past, transformed into the public art of today.
The Townsville Strand was alive with activity from 28 July to 6 August 2017. Strand Ephemera is a public art exhibition, including a $10,000 major prize component awarded by Gallery Services, Townsville City Council in conjunction with major sponsor Glendora.
In September 2017, Kitching and Boscacci together presented an exhibition of paintings, sculptures and prints in Sydney NSW.  They included an evolving installation of banana skin inspired community art works in the space to continue the gag and link the projects.
Bread and Circuses (24 August – 3 September 2017) was a mixed-media exhibition with Sydney-based painter Sharon Kitching at Chrissie Cotter Gallery, Camperdown, Sydney Australia.
In this exhibition the artists embraced 'play' and presented an interplay between paintings and sculpture as a way to express the many distractions and preoccupations that humans turn to while sailing down the river of denial. Their show was a mix of elements, artworks created from and inspired by discarded consumer culture and aspects of nature.
"We're seeking beauty in the discord, humour and simplicity in the spectacle and looking at strains of human activity within the environment".
Related links:
We acknowledge the Australian Aboriginal and Torres Strait Islander peoples as the First Peoples of the nation and the traditional custodians of the lands where we live, learn and work.