Boscacci continues to explore a number of intersecting themes that relate to our natural environment in northern Australia, and in particular, our open woodlands, grasslands and coastal plains, and the elements!
Making prints is part of what I do. I learned screen-printing as a trade in Sydney and I love relief printing of all kinds.  I make prints on fabric lengths, t-shirts, paper and timber.
There are a few themes that I tend to stick to in my prints these days. I am mostly driven to address environmental issues and include nature motifs in my work.
I'm interested in how we, from different cultures, have interacted with the environment over time. European approaches and attitudes to viewing landscape were brought to Australia during colonization. Many of the early European settlers disliked what they saw in these areas and set about changing their environments. This attitude persists today with popular society regarding our open woodlands as being worthless in comparison to our rainforests and developed land. The woodlands of northern Australia are, however, places of astonishing beauty and biodiversity, though it is a beauty only seen with a patient and informed eye.
By bringing these endangered environments and species into my prints I hope to draw attention to their vulnerability in face the onslaught of human civilisation. Land clearing in Australia has increased exponentially and this is very concerning for every living being on this continent / this planet.
All in the name of grown and progress. Progress towards what? Our certain doom!?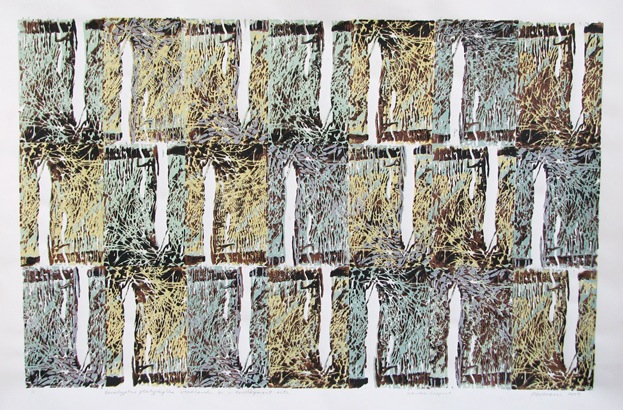 "Boscacci's concern and focus on ecological considerations is clearly stated. In works on paper, for instance Eucalyptus Platyphylla Woodland 2 – development site, Rocky Springs and Burning Season, she experiments with the sharp carved marks so suited to lino-cuts where images of trees and bush-fires are clearly recognisable: the slashed lines are almost an imitation of the snapping sound of burning wood. In Thunderstorm Boscacci utilises the behaviour of water to create a fluid, ambiguous image as much a cloud as a metaphor for fluidity." (excerpt)1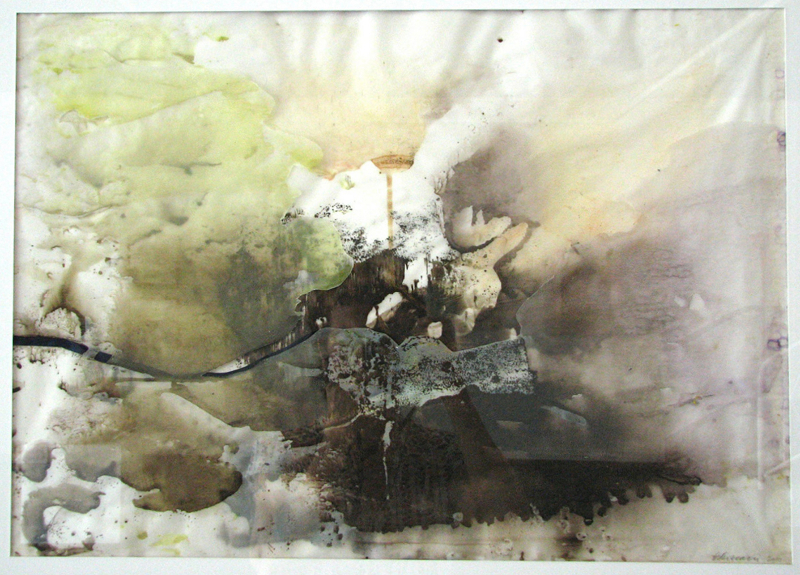 1 Anneke Silver 2011
Exhibitions Review: BURIED LIGHT by ROBYN SWEENEY AND BERNADETTE BOSCACCI: PET SOUNDS by MARY FOKES, UMBRELLA STUDIO, TOWNSVILLE, 2 – 28 JANUARY 2011
http://www.eyelinepublishing.com/eyeline-74/review/buried-light-robyn-sweeney-and-bernadette-boscacci-0
Early print with Alison Alder / Redback Graphix: International Women's Day 1989