Awin Udnum (Good Path Project)
'Working together – Awin Udnum – Healthy lifestyle, people, culture and country'
Awin udnum is a Kunjen term that has a number of interpretations (that can be taken literally or metaphorically) i.e. Good or Right Path, Way, Road… it is 'working together', 'caring and sharing', 'keeping culture alive', the 'healthy way'.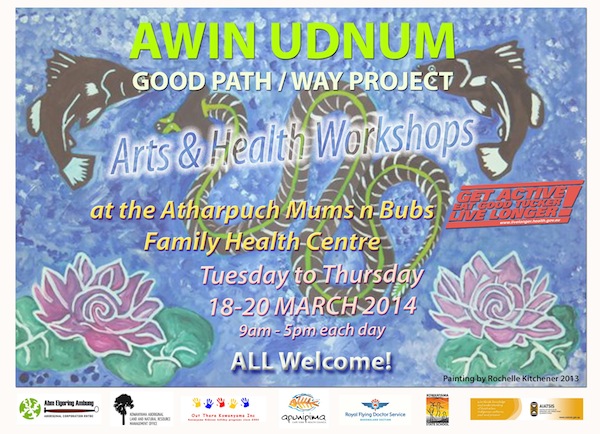 This project adopted a traditional learning and sharing approach to deliver health education that integrated cultural knowledge retention and arts development activities. It was an inclusive and holistic arts, culture and health program which ran in the North Queensland community of Kowanyama, in the Gulf of Carpentaria between 2012 – 2014.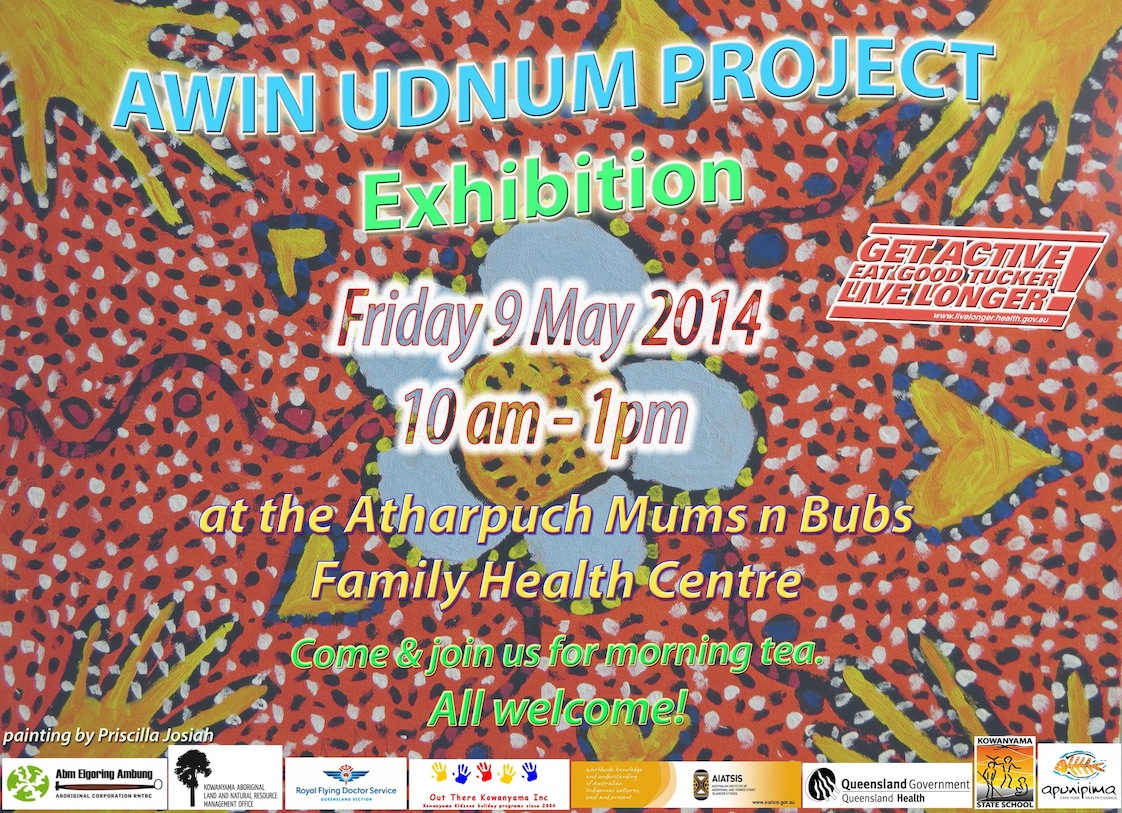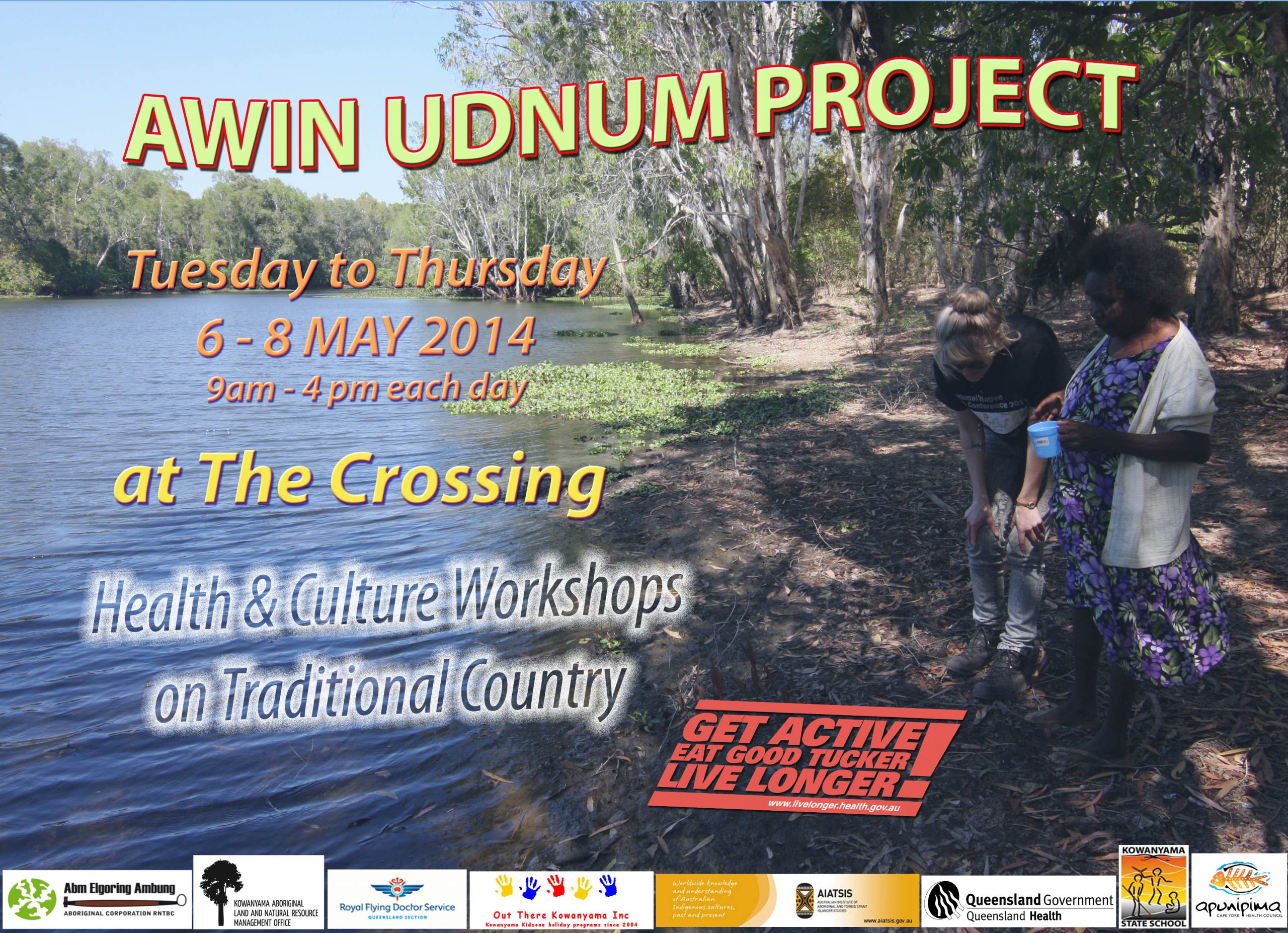 Awin Udnum (Good Path): Seasonal Health Workshops on Traditional Country was funded by The Live Longer! Campaign. A program that was part of the Federal Government's $805.5 million Indigenous Chronic Disease Package (ICDP). The ICDP aims to reduce key risk factors for chronic disease, improve chronic disease management and follow up, and increase the capacity of the primary care workforce to deliver effective care to Aboriginal and Torres Strait Islander people with chronic diseases.
Members of the Kowanyama Aboriginal Community in the Gulf of Carpentaria worked in partnership with arts, health, education and land management professionals to plan and run a series of holistic workshops hosted on Country by clan groups, and in the township over a three -year period. The workshops were highly successful and well attended by community and staff. A couple of the 'on country' workshops had in excess of 70 participants over a 2 – 3 day period.
Tangible outcomes included: the delivery of a series of successful cross-cultural health, ecology, geography and arts workshops; production of community specific health promotion material, in the form of posters, banners and videos using designs and images created within the project; print runs of 500 of each design were created and distributed through the community and to participating organisations; a community art exhibition. Other outcomes include: improved client and service relationships; increased cultural pride and cultural contemporary arts activity in the community.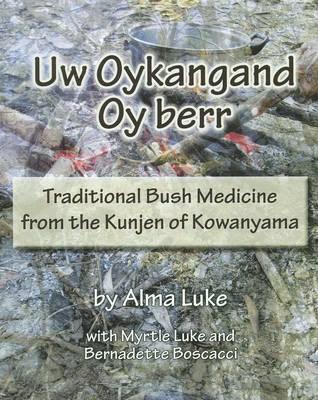 Kunjen elder Alma Luke (b. 1932, d. 2015) directed and named the Awin Udnum project (2011 – 2014) and with Bernadette's commitment to supporting Alma to achieve her vision, they continued their collaboration until her death in May 2015. The Uw Oykangand Oy berr book launch in Kowanyama in November 2011 was the start of the Awin Udnum project , part of Alma's legacy.
Acknowledgements:
We acknowledge the Traditional Owners on whose land (never ceded) this project was held – the Kokoberra, Yir Yoront (or Kokomnjen) and Kunjen Peoples. Thank you for your generosity and we pay respect to elders, past and present.
Project collaborators included numerous arts and health workers, artists and volunteers Vivian Sinnamon, Dr Lara Wieland, Shaun Edwards, Billy Doolan, Rhesa Menkens, Daniel Bracegirdle, Julia Cazita-Mazeud and Julián Facundo Rinaudo, Francine Gilbert, Chrissie Aidan, Warwick (Chook) Aidan (dec.), Jacob Boyd Aidan, Corrine Daniel (dec.), Edgar Bendigo (dec.), Hazel Barr, Michael Yam, Charlotte Yam, in partnership with Abm Elgoring Ambung Corporation, Kowanyama Lands and Natural Resource Office, Kowanyama State School, Apunipima Health Council, AIATSIS, Out There Kowanyama.
The ethos and work of Awin udnum was supported by and has been sustained through the Kowanyama Project
Related links:
---
I acknowledge the Australian Aboriginal and Torres Strait Islander peoples as the First Peoples of the nation and the traditional custodians of the lands where I live, learn and work.